Kindred, a Swedish, Malta-headquartered name within our gaming-gambling coverage has been a case of unfulfilled potential, ever since we initiated the stock about eight months ago. With regulatory headwinds in the Netherlands and post pandemic normalisation affecting online operations, the going got difficult in a painful way (-6.7% vs -5.96% for AV gaming-gambling and -7.84% for STOXX600). As the worsening macro added to the already bleak outlook, it needed an external push to turn around sentiment. Help arrived with the UK 'gambling act review' whitepaper rumoured to be better than initially feared and a re-entry in the Netherlands secured for its previously market-leading brand 'Unibet'. Corvex, an activist investor, built up a meaningful stake and pushed hard on the 'sale' button and thus added more legs to the recent rally.
With Kindred moving to fix perennial gaps (vs peers) and its re-entry into the Netherlands secured, the boardroom battle could just be the catalyst to convert the 'promise' into 'realised returns'.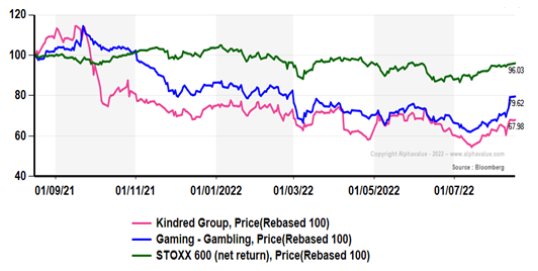 Addressing structural issues…
We have for long advocated scale, diversity, locally-regulated market presence - reducing the risk of shocks like the one in the Netherlands (previously accounting for >20% of revenue) which required temporary shutdowns – and the ownership of technology as keys to success in the world of online gambling. While Kindred, undoubtedly, has the scale and diversity (it operates online casino and sports betting across geographical markets), it has been a late mover in technology and de-risking itself to point-of-supply (not locally regulated) markets (~22% vs. <5% for AV peers). The 'no show' in the US (FY22e revenue < £50m vs £1.2-2.5bn for the top 3 operators), an important but complex market (as regulations differ by state), is a reflection of the lack of a technological advantage.
However, with corrective action to address these pain points now well underway - Relax gaming acquisition announced in 2021, plans to develop an in-house sportsbook, launch of proprietary technology platform in New Jersey in Q3 and actively cutting exposure to grey markets - post the Dutch relaunch in Q3, Kindred's regulated market exposure will be >80% - we believe the firm can close the ~40-50% valuation discount to top-rated peers.
…adds to an underlying attractive business
Looking beyond the above missteps, Kindred does have a quality underlying business, a fact validated by the 23% top-line CAGR delivered over the last decade to 2021 (vs ~11% for online gambling market).
Its success is largely attributed to a 'mobile-first' single brand sports-betting-led strategy (it helps boost marketing efficiency), effectively leveraged to cross-sell multi-brand gaming/casino products. Also, as one of the few pureplay 'online-only' operators, Kindred is aligned to a structurally faster-growing channel (vs flat-to-low single-digit growth in retail). The combination of the two has translated into a very lean operation (2021 revenue/employee of £625k vs £382k for Flutter and £158k for Entain).
While the strategy is well-founded, the launch of its proprietary technology platform in New Jersey in Q3 (to be followed by other states) should make it more effective. Clearly trying to catch-up in a very important market, any significant change in its US market share along with the Dutch re-entry will be key near-term catalysts, as the UK market (a third of revenue) is expected to remain under pressure due to stringent, safer, gambling initiatives.
Backed by robust financials
Kindred's lean and asset light model has resulted in an industry-leading return profile (5Y average ROCE >30% vs low-single digit for AV online peers). The relatively low inorganic growth contribution (vs. M&A heavy strategy deployed by most industry operators) combined with best-in-class FCF conversion (5Y average of 74% vs 60% for AV gaming-gambling) have left Kindred with a robust balance sheet - net cash/EBITDA of 0.32x at 2021 end vs. average net debt/EBITDA of 1.8x for AV peers. With an ambition to return ~75% of its FCF to shareholders (through buy-backs and dividends), we believe that success in newer markets/opportunities is a question of allocation/execution rather than want of financial muscle.
Boardroom battle?
Kindred's quickest chance of value creation lies at the bargaining table, as evidenced by the approach from activist investor Corvex (now its largest shareholder with over >15% holding vs <5% at start of 2022), which recently pushed for a sale.
With the rumoured sale attracting little interest (lack of strategic fit for listed peers and worsening credit conditions for a PE takeover), a boardroom battle resulting in a management overhaul is likely (also implied by Corvex's recent demand for a seat on the board as well as nomination committee). Alternatively, a profile-enhancing acquisition (technology focused) or merger/takeover (like one with Fanatics/ESPN in the US, both still rumoured to be considering a splash into sports betting) can offer a valuation leverage. As a reminder, Corvex's hard-nosed approach has resulted in significant asset disposals/outright sales on more occasions than one (Yum! Brands in 2018, Energen in 2018).
Our valuations agree. While there is longer term optionality in the business (DCF 105% upside), a takeover/merger should offer good value (94%) as well, and quickly. On the other hand, the relative valuations flash comparably modest upside potential, in spite of the fairly beaten-down valuations, highlighting the near-term challenges.