EQUITY RESEARCH - MARCH 2018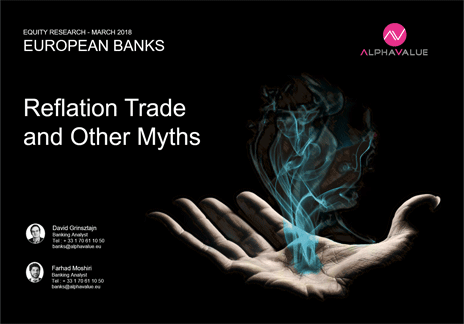 Study realised by


David Grinsztajn
Banking Analyst


Farhad Moshiri
Banking Analyst
EUROPEAN BANKS
Reflation Trade and Other Myths
Banks have over-performed the market over the past two years, recovering a portion of the ground lost during the first half of 2016 on overdone deflationary and political fears.
Based on consensus expectations, the sector now looks fairly valued be it in absolute or relative terms with valuation metrics back to historical standards.
However, the sector has come back into favour only recently, based on a consensual investment case largely articulated around the so called "Reflation Trade" which argues that the normalisation of economic and above all monetary conditions will be beneficial to a procyclical and interest rate driven sector.
The plateauing of regulatory inflation is also expected to translate into accelerated capital distribution thus supporting the sector's future market performance.
At last, disruption concerns seem to have evaporated while banks have started to promote a positive reading of digitalisation.
In the context of such a well-established investment case, we consider that our added value consists in testing and challenging the underlying assumptions and concepts.
Our analysis shows that the "Reflation Trade" does not resist to reality check thus confirming that consensus' view is blurred by a misconception of banks' business model.
Although we understand investors' interest in yield stocks, finance theory and reality check show that analysts' obsession in capital distribution is misplaced.
At last, the best-case digital scenario promoted by banks looks like wishful thinking and can only disappoint.
Our Lead Analysts on European Banks has published his latest note entitled " Reflation Trade and Other Myths ".