Bitcoin's price trend has confirmed that it is at best a leveraged proxy for the Nasdaq (see chart) but the army of believers has not been completely wiped out and the shovel sellers (say Coinbase) will not accept defeat. This investment church thus looks set to survive as an indicator of pure risk, as some sort of inverted Vix.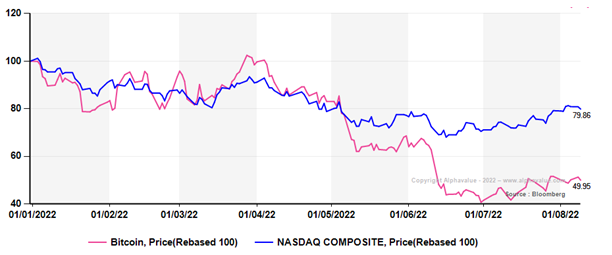 Glassnode stats (chart below) confirm that Bitcoin church-goers are still a faithful crew with a never-ending rise in the number of accounts holding more than 0.01 BTC ($230 at pixel time). The c.60% drop in value between the purchase time (March 21 to Jan 2022, with US stimulus monies) and now has not led to account closures. This is an interesting development as it appears to confirm that only windfall household resources have been deployed in the crypto casino. The stress on household (mostly US and minorities) resources is not such that this small exposure to BTC needs to be realised.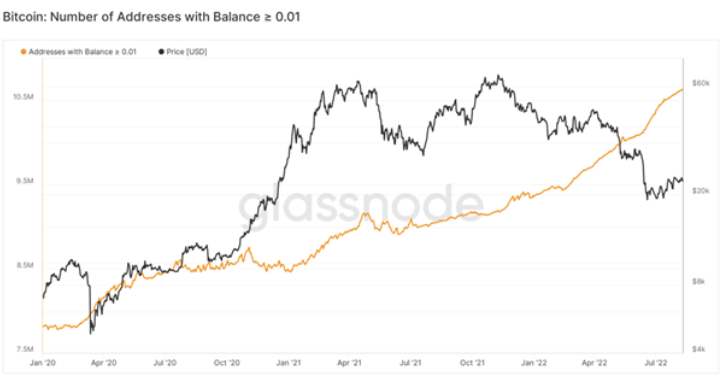 Looking at the Coinbase Q2 figures (revenues down 61% and a $1.1bn loss, released on 9-08), Bitcoin holders are confirmed as just that, passive holders, as the crypto dominant exchange has been punished by a collapse in volumes (-66%). Interestingly Coinbase did not record credit losses worth mentioning. This is a surprise given the debacle in the crypto sphere but may also be a by-product of buy to hold strategies on the part of most of the 10.6 million holders with a few bucks worth of BTC. Active BTC holders seem to number 0.8 to 1m on any given day with this figure remaining remarkably stable over 2022 so that indeed the action in the crypto sphere was essentially on Alt-Coins, now essentially wiped out in the search for silly yields.
As the dust settles in the crypto world, the usefulness of BTC as a sentiment tracker may well gain a degree of acceptance. The point of BTC still eludes AlphaValue now that it is not even a de-correlated asset class but we like it as a sentiment benchmark.