Generally speaking, the economic climate and consumer sentiment aren't really in favour of the automobile industry. Since 2020, the global automotive sector has been facing falling demand and production halts resulting from the COVID-19 pandemic and automotive semiconductor shortages. This chip shortage led to around 11.3 million vehicles being cut from worldwide production in 2021, and lasting disruption in the automotive supply chain contributed to the removal of another seven million units from production in 2022.
Renault Group seemed to be the worst-performing car maker.
Renault Group is one of the smaller-end among mass-market OEMs (2.1m units sold in 2022), having seen its world market share decline from almost 5% in 2019 to 2.6% in 2022. Nonetheless, as part of the alliance between Renault, Nissan and Mitsubishi, the company holds a stake in Nissan (43.4% currently, and set to decrease to 15%), which sold another good 4.1m cars in 2021 (4.2m in the calendar year 2020/21 ended March 2021). Consequently, the two combined have a more commanding share of some 9% of the global market. However, the lack of transparency and forever-ongoing negotiations within the Alliance (Renault-Nissan-Mitsubishi) appears to be an overhang on Renault's shares rather than a value-unlocking partnership.
In January 2021, the group launched its Renaulution strategic plan, with three phases launched in parallel: "Resurrection", "Renovation" and "Revolution". The main objective is to restore competitiveness. With the initial outlook reached faster than anyone had expected, Renault raised the bar when presenting the "Revolution" phase in late 2022.
Improving function efficiency and adopting strict cost discipline;
Harnessing the Group's industrial assets and leadership in electric vehicles in Europe;
Leveraging the Alliance's technological expertise to boost efficiency;
Taking data services, mobility services and energy services to the next level;
Tapping into the most competitive and distinctive brands, for customers and markets, and enhancing profitability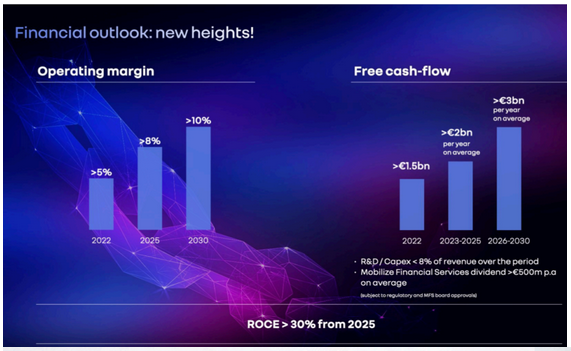 Source - Renault's Capital Market Day
The first phase, Resurrection was completed 3 years in advance.
Renaulution now Revolution
We had been reluctant to fully factor in the ambitious long-term target of the "Renaulution" 3-Phase plan. Reaching and sustaining never-before-seen FCF generation levels together with premium-like margins would be an achievement for Renault per se. Doing it in the wake of the EV transition is a lot more uncertain with risks overhanging the cost of key raw materials and the sustainability of demand at current prices, without mentioning the likelihood of further macroeconomic shocks.

However, taking into account the amount of investment already made and the restructuring measures implemented, we expect Renault's short-to-mid-term performance to be supported by deep structural improvements regardless of the macro environment. On top of this, the company could benefit from its unique structure with a Renault brand growing less and less dependent on volumes, a Dacia brand able to capture trading down behaviour, an Alpine brand capitalizing on its sporty image and an asset-light organisation to cope with a lack of critical mass.
A lower dependence on the Alliance would be a plus but the governance complexity will certainly remain a drag from an investor standpoint. We believe that there is hope in Renault and we stand by it.
For valuations, contact us at press@alphavalue.eu